No, I haven't become Miss Doom and Gloom. I haven't lost hope either. 😀 I found this little "lost episode" in my email. I wrote it waaaaaaay back before the pandemic got started. It does pay off to squirell things away, especially when you're prone to choppy seas. Consider this a lost episode of Star Trek the original series. I will apologize for any characters whose character I've brutalized. I hope it makes you smile or laugh. Keep hanging on.
—Tina
---
A Likely Demise
Kirk: We….are going…to die.
Spock: It's illogical to presume this will be the final outcome, Captain. There is still a 0.01% possibility that Bones will find the cure for this unknown ailment.
Bones: I'm not a wizard man, I'm a doctor!
Chekov: Captain, we'll have the wictory, sir.
Ohura: I can't die tonight. This is the night I wash my hair.
Scotty: I've giv'in her all she's got, Captain. She canna take much more.
Sulu: I concur with Scotty. It's time to turn this tug around and go search the planet for rare plant life that likely won't cure us. But it will make for one great last adventure!
Kirk: But I….don't…want to…die.
Spock: Your preoccupation with death is a typical human failure. Vulcans don't fear death. It would be illogical. Fear itself is illogical. Being illogical is most illogical.
Bones: Would you put a sock in it, Spock. If Vulcans are so superior, why don't you come up with a cure?
Checkov: Please sirs, I'm too young to die, we must have the wictory.
Ohura: Pavel's right, we ARE too young. We look too good too.
Scotty: I could beam us down to the planet, but It'll be a one way trip I'm afraid. It's go or stay, Captain.
Sulu: Well, I'm ready. I was born ready. If today is the day to die than so be it!
Spock: Your enthusiasm is commendable. Most unusual for a human, but intriguing. *raises one eyebrow*
Kirk: Alright. Here's the plan. We'll go down to the planet… on one condition…
Checkov: What's the condition, sir? Wictory?
Bones: Oh this is going to be good. What possible condition could you have at a time like this, man!?
Kirk: Ohura, lets wash our hair. I'm… all…frizzy.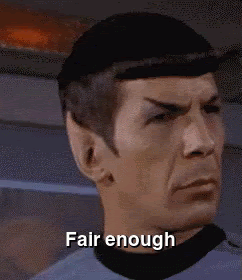 (Photo credit goes to Pixabay.com user lumina_obscura.) Can't remember where the Spock gif came from. My bad.